Haltom City's Best Plumbers
Toilet running?
Leaking faucet?

Haltom City's Best Plumbers
Toilet running?
Leaking faucet?
We handle all things plumbing for your home!
We always answer live— book in under 2 minutes!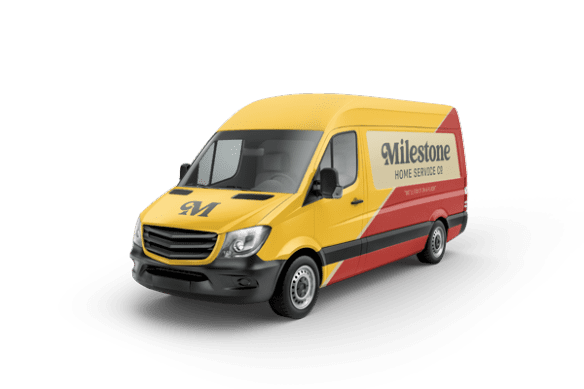 Water Heater Services in Haltom City, Texas
Providing Scorchingly Great Water!
Since their invention, water heaters have become more of a necessity than a luxury item. No homeowner in Haltom City could likely consider having no source of hot water. We use hot water for bathing, washing clothes, washing dishes, and a wide array of other tasks. When water heater issues arise, Milestone will be here for you. Since 2004, we have been proudly serving the plumbing needs of homeowners in Haltom City. We want to be the first name you think of when any plumbing concerns arise.
Water Heaters Now $100 Off
Water Heater Installation Services
If you need a water heater installed, we are the plumbing experts you can rely on fully. We can handle all types of installation needs, including those for Tankless Water Heater models. Milestone's experienced Plumbers come prepared with the knowledge, tools, and experience to get the job done efficiently. We make the entire process as stress-free as possible and treat your home as if it were our own. Our friendly and knowledgeable Plumbers will be there for you to answer any questions or concerns along the way. Our Water Heater Installation services are completed by experts and are reliable.
Signs You Need Water Heater Repair Services
Milestone provides the best Plumbers in the industry because our reputation is on the line. We will not hire anyone who is not an expert and cannot pass advanced background checks and drug tests. If you notice any of the following signs, call us immediately for repairs or a Water Heater Replacement.
Is your hot water supply suddenly running out much faster than before? This issue could be caused by your tank size or a failing water heater. We can replace your water heater to resolve the issue.
Does your hot water have a bad smell or is it discolored? If you have noticed these changes, your tank lining could be breaking down, leading to corrosion.
Have you discovered your water tank is swelling or sweating? These are signs there is a leak present in your water heater. Call Milestone's experts right away for a repair or replacement.
Does the water heater make strange noises, such as clanging and banging or groaning? If so, we need to check it right away. We can quickly find and resolve the problem.
If you have noticed any of the above, we want you to call us right away for a water heater repair appointment. Immediate repairs are essential for protecting the lifespan of your water heater, even if it is a Tankless Water Heater model.
To further ensure your water heater lasts as long as possible, Milestone offers comprehensive maintenance services. Our maintenance services check every aspect of your water heater. We drain and flush it to ensure no sediment buildup is occurring.
When it comes time for Water Heater Replacement, Milestone Plumbers have you covered. We can help you choose the perfect replacement for your old unit. Out with the old and in with the new. There are now many water heater options homeowners in Haltom City can choose from, including Electric Tankless Water Heater options. We will guide you through the entire process to ensure you make the best choice for your home and budget needs.
Once you have decided on a model, we will remove your old unit and go right to work on installing the new one. Our expert team of plumbing installers will answer any questions for you and make the process as seamless and stress-free as possible. For over seventeen years, we have been proudly serving the needs of homeowners in Haltom City and surrounding areas. We offer a same-day appointment guarantee if you call us before 10:00 in the morning. We also offer emergency plumbing services to ensure your needs are met right away.
Very thorough for all inspections and helpful with tips concerning for improvement with air quality with people with allergies in our home. Thank you for considerate staff that truely try to help impr...
Let Milestone 'Fix it in a Flash' for You!
Water Heater Services Near Me
We understand dealing with water heater issues can be a big source of stress, especially when a complete failure occurs. Milestone is the trusted name you can rely on for all your plumbing needs. Our team will come prepared with a stocked truck and all the tools and equipment necessary to get started on the job. This means you will not have to wait days for repairs.
If you are a homeowner in the Haltom City area and need plumbing services, including those for water heaters, give us a call right away to schedule an appointment. No job is too big or too small, and we are standing by to ensure your plumbing needs are met in their entirety. Here is our Milestone Guarantee: We strive to offer the best customer service. If you are not 100% satisfied, neither are we! We will work to make things right, and if we cannot, we will give you your money back.