Haltom City's Best Heater Technicians
Room uncomfortable?
Uneven room temperatures?

Haltom City's Best Heater Technicians
Room uncomfortable?
Uneven room temperatures?
We handle all things heating for your home!
We always answer live— book in under 2 minutes!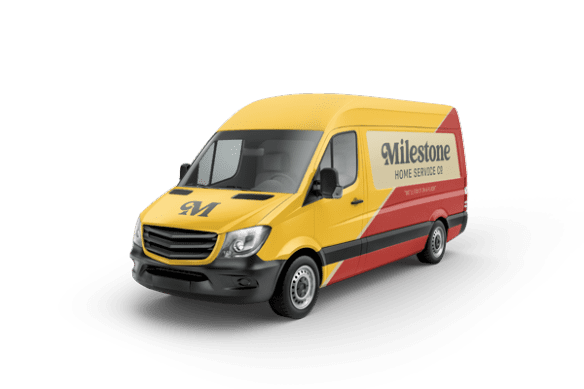 Heater Maintenance in Haltom City, Texas
Keeping Your Home Warm When it Matters Most
Texas winters can be brutal. This is why proper heater maintenance is important. Milestone offers the best heater maintenance in the Haltom City area. All our Milestone Technicians are expertly trained, experienced, and committed to providing superior customer service.
Keep the Heater Running with Routine Maintenance
Before you turn your heater on for the first time each year, you should consider having the system cleaned and inspected. Doing so will remove the dirt, dust, and debris that sat there all summer. That nasty odor you smell when you first turn your heater on is all of that gunk melting and burning, so it is smart to have the system cleaned to avoid this smell.
The Milestone Tune-Up™ for $129
The Importance of Heater Maintenance
Families in Haltom City rely on their heaters to keep them warm and toasty. This is why regular heater maintenance is important. If the heater is not running properly, the system may not properly warm the house. This can end up meaning that both the home and the family are miserably cold.
Your Milestone Technician will arrive at your home and inspect the heater or HVAC system. If they notice any minor damage, they can make the repairs on the spot. They will clean the system and make sure it is ready for Winter. Having the heater inspected before it is needed is smart, as you will have a guarantee that your heater is ready to go when needed.
Professional Service Haltom City Homeowners Can Count Own
Milestone offers professional service that homeowners in North Texas can count on. We hire and train HVAC experts to provide superior customer service. All our Milestone heating Technicians are skilled experts who understand the importance of families having a working heater in their Texas homes.
You can count on Milestone throughout the year, not just in the cold winter months. You can schedule a heater tune-up any time of the year so that your heater or HVAC system is always ready to go. Our superior and professional customer service will make you feel safe and secure. You can also feel great about our 100% customer satisfaction Milestone Guarantee that ensures a quality result every time.
The Neighborhood Heating Experts in Haltom City
What does it take to be an HVAC Technician for Milestone? To become part of the team, each of our Technicians must go through a rigorous training program that ensures they are fully equipped and educated in the proper ways to handle in-home HVAC issues. All employees are drug tested, and background checked.
Safety is number one with Milestone, and our company knows that these Technicians will be in the customer's homes. You should feel safe, secure, and confident about the Technician working on your heater, air conditioner, or HVAC system. If you have any concerns or reservations, you are welcome to give us a call.
Michael Walker was the tech that came out to my home. He did a excellent Job and I work from home he was so understanding. He put every one of my light fixture up while I worked he is very professio...
Milestone Offers a Same-Day Guarantee
A huge benefit of choosing Milestone is that this company offers a same-day guarantee. This guarantee says that if you are experiencing an emergency and you call before 10:00am, we will arrive at your home on the same day you call for service. Heater maintenance and repair can be tricky, so this is why Milestone employs only the best HVAC Technicians in the area.
Let Milestone 'Fix it in a Flash' for You!
Preparing Texas for Winter Storms
While Texas is one of the hotter states in the nation, Texas winters can still get cold and nasty. Milestone works tirelessly to ensure that all of our Texas customers are prepared for winter weather and winter storms. When calling, ask about The Milestone Tune-Up™ for your heater. Our expert Technicians will make sure that your heater is ready for the cold weather ahead.
If any issue is found with the heater during routine maintenance, we will let you know the cause and solution. Milestone Technicians are expertly trained to clean and adjust the heater's working parts and inspect the system for any potential problems. If an issue is identified, we will work directly with you to develop a solution that works for everyone.
Milestone's Excellent Customer Service Guarantee
If a Milestone customer is not 100% satisfied with their service, Milestone will do everything possible to make it right. Our company is so dedicated to our commitment to excellence that we guarantee customer satisfaction.
Milestone services homeowners all over North Texas, including those in Haltom City. Homeowners wanting amazing customer service and superior heater maintenance need to look no farther than Milestone. Don't delay in getting your heater ready for winter. Give Milestone a call today!