Haltom City's Best Heater Technicians
Room uncomfortable?
Uneven room temperatures?

Haltom City's Best Heater Technicians
Room uncomfortable?
Uneven room temperatures?
We handle all things heating for your home!
We always answer live— book in under 2 minutes!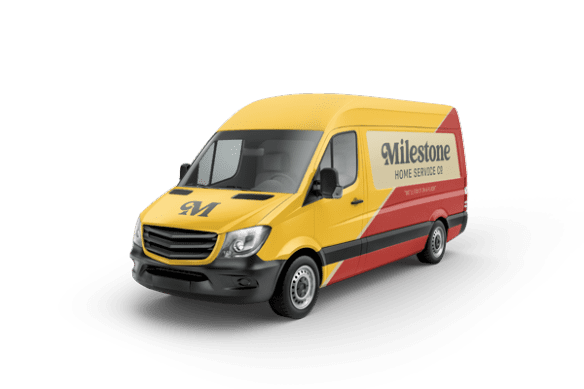 Heater Installation in Haltom City, Texas
Installing Your Heater Right The First Time
Most Haltom City homeowners focus more on their air conditioning units than their heaters, which is understandable. Texas is well-known for its sometimes unbearably hot summers. However, it's important not to focus on the home's AC unit at the expense of its heating system because having a working heater is just as essential when the temperatures start to drop.
Below-freezing temperatures and the occasional snowstorm aren't unheard of, and even a normal winter will leave families without a properly functioning heater struggling to stay warm and safe. Occasionally, blizzards even make their way into some parts of the state.
Milestone knows how essential it is to keep homes warm in the winter, which is why our company provides expert heater installation services alongside their more popular AC installations, repairs, and replacements. Each HVAC Technician is trained in how to perform the perfect heater replacement so homeowners can rest easy knowing that the whole process will go smoothly.
Call Now for Same Day Service
Expert, On-Time Installations
At Milestone, our HVAC techs know everything there is to know about home heating systems. We want to be every homeowner's go-to for heater installation in Haltom City. All you need to do to schedule a heater replacement is call to contact our staff for an appointment. Milestone's expert techs will handle everything else, from removing the old heater to installing the new one and checking every component of the heating system to make sure it will function as intended.
There are a few things that set Milestone apart from the competition. First, every HVAC Technician on our team undergoes thousands of hours of training to ensure that he or she can handle any issue that comes up during the installation. Second, we background check and drug screen every employee prior to hiring, which means you will never have to worry about whether the people you allow into your house are trustworthy.
Finally, Milestone places a huge emphasis on customer service. We will always respond to your service requests, comments, and concerns promptly and courteously, and our Technicians will always arrive on time and clean up after themselves before they leave. If you work with us, you can expect not just expert workmanship but also amazing customer care. Our Milestone Guarantee is a great example of this. We are committed to never leaving a job until you say you are 100% satisfied with the results.
Why Replace an Aging Heater?
Even high-quality heaters aren't meant to last forever. Over time, their components begin to wear out and the units lose efficiency, break down more frequently, and create higher operating costs for homeowners and their families. To make matters even worse, old, inefficient heaters are also more likely to break down when they are placed under stress.
When the temperatures start to plummet outside, you shouldn't have to worry about whether you will be able to stay warm without huddling under the blankets. You can trust Milestone to provide efficient heater replacement services any time of the year, but there's no reason to wait until the heater is on its last leg. It makes more sense to consider heater installation a form of preventative maintenance.
If the old heater is starting to lose efficiency and those monthly heating bills are skyrocketing, take that as a sign it's time to replace it. Issues like frequent breakdowns, unusual sounds, and the inability to provide sufficient heat for the whole home are all warning signs of an imminent heater failure. Pay attention to how the heater is holding up during the home heating season and schedule a heater replacement with Milestone during the off-season to prevent unnecessary service disruptions.
Get It Right the First Time
Haltom City homeowners deserve to work with HVAC Technicians they can trust to get everything right the first time. Otherwise, they'll be stuck worrying about the family's warmth, comfort, and safety despite their recent investments. Our experts at Milestone are known for their attention to detail and will always get heater installations right the first time. When winter storms roll around and the new units are placed under intense stress, they'll perform exactly as intended. At Milestone, we guarantee it.
Robert Short is definitely an asset to your team. Pleasure working with him....
Let Milestone 'Fix it in a Flash' for You!
Customer Service Homeowners Can Count On
Milestone isn't just known for our Technicians' quality workmanship. We also pride ourselves on offering customer-centric service that always places homeowners and their families first. Milestone knows that each of its HVAC techs holds the same values, too, which is why we offer our 100% customer service satisfaction guarantee. If you aren't content with the way you have been treated, all you have to do is call to report the bad experience. We will go above and beyond to make it right so you are satisfied and our excellent reputation remains intact. Contact us for heater replacements today.