Haltom City's Best A/C Technicians
Room that doesn't cool?
High energy bills?
Haltom City's Best A/C Technicians
Room that doesn't cool?
High energy bills?
We handle all things air conditioning for your home!
We always answer live— book in under 2 minutes!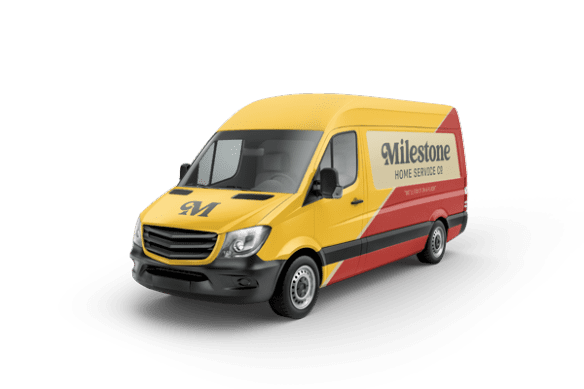 AC Repair In Haltom City, Texas
We Are Here For You (and Your Air Conditioner)
You should never delay repairs once you've noticed the common signs of AC issues. Even a simple problem could become a major catastrophe if it is not repaired quickly. At the first sign of an issue, you need to set up at least an inspection to find out what is causing the problem. Our HVAC professionals at Milestone perform inspections quickly for customers in Haltom City, and this is a great way to pinpoint a problem and find out how much it would cost to repair it. Here are some of the repair services that we perform for AC units in the area.
Unclogging the Condensation Drain
The condensation drain must allow all condensation and moisture to drain out of the system and away from the property. If the drain becomes clogged, the moisture will stay inside the unit and its casing. This could prove disastrous for property owners, and mold and mildew can become a serious problem.
When the drain becomes clogged, our Technicians will look for mold and mildew first. If we find some, you will need to set up remediation and restoration services. Then, once our Technicians complete the AC Repair, the condensation drain will operate as expected.
Removing Blockages in the System
Blockages in the system aren't difficult to remove and clean away, but they can present major issues if they continue. Our HVAC professionals will complete seasonal cleaning services, but sometimes, you will need these services more often. If you have pets in the home, this could increase debris accumulation in the AC system and cause more blockages. A great way to decrease the risk of blockages is to have us install an air cleaner.
Testing for Refrigerant Leaks
A refrigerant leak presents serious risks for you and the environment. The leaks prevent the AC system from operating as expected, and it will not produce cool air properly. Our Technicians track down the leak and repair it quickly. Once the leak is sealed off properly, we gauge the refrigerant levels and recharge the system to the appropriate levels.
However, if repairing the leak and recharging the system doesn't correct the issue, our Technicians will assess the AC system more thoroughly. They will provide an estimate for Capacitor Replacement or other repair requirements.
Reviewing the Condenser Coil
The condenser coil can freeze, and the fins can become damaged and bent. At the first sign of a freezing condenser coil, you must schedule repairs quickly. The AC system will not circulate cool air under these conditions, and our Technicians will have to thaw out the components before serving them. If the fins are damaged, we will have to repair them. If the component cannot be repaired, we will provide you with a complete estimate for replacement.
This technician is OUTSTANDING...
Consider the Age of the AC System
The age of your AC System can play a role in whether it is feasible to complete repairs. If your unit is older than 15 years old, it isn't feasible to replace several damaged components. Our HVAC professionals at Milestone will explain how much each option will cost. If the repair costs are more than a new unit, it isn't feasible to complete repairs. With Emergency AC Services, our HVAC professionals may complete repairs to allow the system to operate until a new unit is available to the homeowner. For every repair we complete, we also give you our 100% customer satisfaction Milestone Guarantee. We are dedicated to earning your trust and loyalty, so we won't leave the repair job until you are 100% satisfied.
Let Milestone 'Fix it in a Flash' for You!
Milestone provides residential property owners with exceptional HVAC services, and we guarantee all our heating and cooling services. We provide you with highly skilled Technicians, and we screen all our workers completely. Property owners can learn more about AC Repair In Haltom City by contacting us right away for an appointment
If you have been having problems, you should set up AC repairs as soon as possible or your system could fail. In Texas, having no air conditioning presents serious health risks for you and your family. At the first sign of issues, you will need to set up an inspection to find the source of the problem. Our HVAC professionals will test all the components and gauge how well the system is operating.
Once we discover the exact problem with your system, we will create an itemized estimate for the repair services, and you can set up the services at your earliest convenience. If the HVAC system is too old and needs to be replaced, we can present you with a full catalog of AC systems to choose from. We will help you find the best system for your home that gives you the latest technology and exceptional features. Contact us today for more information about our AC repair services.