Haltom City's Best Heater Technicians
Room uncomfortable?
Uneven room temperatures?

Haltom City's Best Heater Technicians
Room uncomfortable?
Uneven room temperatures?
We handle all things heating for your home!
We always answer live— book in under 2 minutes!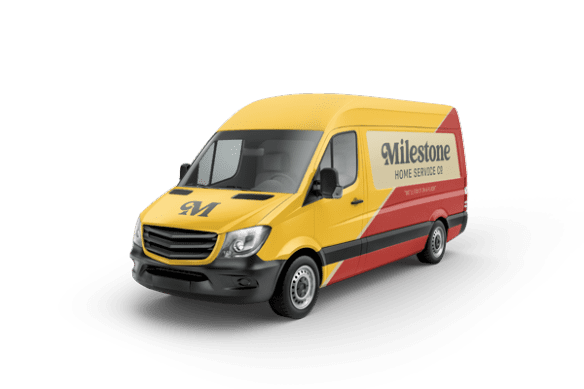 Heater Tune-Ups in Haltom City, Texas
Peace of Mind with The Milestone Tune-Up™
As is apparent with the unexpected and incredibly cold weather that has hit Texas in previous years, you need to be prepared to run your heater at a moment's notice. Although issues like electrical grid failure are beyond a homeowner's control, keeping a heater in top shape is something that everyone has command over. Taking advantage of the heater The Milestone Tune-Up™ service offered by the experts at Milestone will help ensure that your heater always kicks on and produces a consistent source of heat whenever the weather begins to dip. Disregarding this could mean a loss of heat when a household needs it the most.
The Milestone Tune-Up™ for $129
Treat the Heater as if it's a Vehicle
Much like an automobile, heaters that don't receive periodic service are prone to breakdowns. During a The Milestone Tune-Up™ appointment, our Technicians will remove the dirt and debris that can disrupt sensors and gunk up movable parts. New lubricants will also be applied to keep mechanical parts moving smoothly and keep belts from drying out. To top things off, Freon levels get checked and more is added if necessary. Our HVAC Technicians act like an automotive mechanic during this service by keeping the most crucial parts of the heating system in top shape to help improve performance.
Taking the Tune-Up One Step Further
One unique service that Milestone provides during these tune-ups is a thorough cleaning of the blower motor. Most HVAC companies will check the motor and dust it off, but Milestone goes the extra mile and removes the component to give it a detailed cleaning. Removing the blower motor helps remove any grime and dust that has worked its way deep inside and could slow down its responsiveness. It also gives the Technician a better way to inspect it and determine if there could be any potential problems lurking inside.
Keep the Circulating Air Free of Pollutants
The heater filter is another important component that must be changed periodically to ensure efficient air circulation. Heater filters come in all shapes and sizes, but only the exact size for each specific system will properly trap dust and allergens. In some cases, you can replace the filter as long as you know what size to purchase and which direction it should be facing. Our Technicians at Milestone will show you how to perform a heater filter replacement for your home so that you can prevent airflow issues due to the trapping of excess debris long before your Technician is scheduled to visit.
Assistance For Those Who Can't Make Filter Changes
Of course, not everyone can access their heater filter, but your team at Milestone arrange appointments to check and replace the filter on a specific timeline. Our team will create a schedule that sends a Technician to replace your filter before too much debris has filled it. If the existing filter doesn't seem to be cutting it, or too many allergens are in the air, we will recommend different filters that better suit the desired air quality of your home. In the meantime, the Technician removes the old, soiled filter without leaving any mess for you to clean up.
Seasonal Maintenance Lowers the Risk of Failure
One of the best ways to avoid an unexpected breakdown is to schedule a seasonal heater maintenance service. These visits help extend the system's life span by prepping it for use before the arrival of the cold winter months. Scheduling these visits with Milestone each fall ensures that your system receives a diagnostic test and is ready to run at peak capacity during moderate and extreme cold snaps without fear of being overworked or sudden failure.
Marcus went over and beyond to get our air conditioner fixed. It took him 2 hours - but he got it fixed!...
Let Milestone 'Fix it in a Flash' for You!
Setting Things Right on Every Project
If the results of your The Milestone Tune-Up™ heating tune-up leave you unhappy, we will always find a way to make things right. Milestone offers a 100% satisfaction guarantee to each customer, sending out a different Technician or member of management to hear the customer complaint and initiate corrective actions. We are committed to making things right and won't leave until the maintenance performed is up to the homeowner's complete satisfaction.
An Up Front and Reliable Team
To help ensure customer satisfaction, Milestone thoroughly screens and trains all of our Technicians. We also provide up-front pricing and never tack on hidden fees to an established quote. This level of dedication combined with years of experience makes Milestone one of the most trusted HVAC providers in Haltom City, TX.
Emergency Service All Year Round
Even though a semi-annual The Milestone Tune-Up™ heating tune-up keeps your heater running efficiently, uncontrollable incidents can happen that trigger a breakdown. Fortunately, Milestone provides around-the-clock emergency service to the residents of Haltom City, TX. Regardless of whether a malfunction occurs in the middle of the night, during the weekend, or a national holiday, the team at Milestone will have someone on call who will address the situation as quickly as possible.