Haltom City's Best Heater Technicians
Room uncomfortable?
Uneven room temperatures?

Haltom City's Best Heater Technicians
Room uncomfortable?
Uneven room temperatures?
We handle all things heating for your home!
We always answer live— book in under 2 minutes!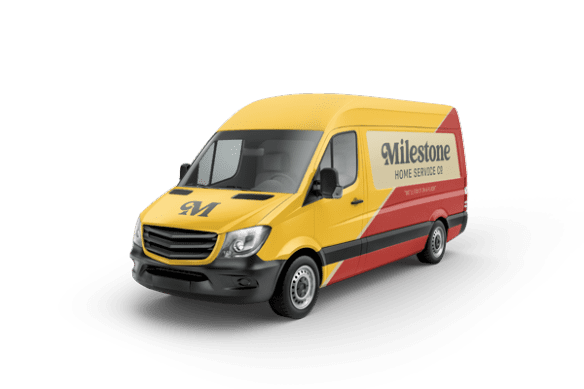 Heating Services in Haltom City, Texas
Keeping Your Home Warm When it Matters Most
When the outside temperature drops, you'll need a heating system that can get you through it. You can count on Milestone's team to keep your family warm all season long. With the heating services our highly skilled Technicians provide, your heating system will stay efficient and effective when you need it most.
From heating replacement and installation to repairs and maintenance, we have the knowledge and skill to keep Haltom City's homes comfortable. Call today to learn about our services for heat pumps, heaters, and ductless systems.
The Milestone Tune-Up™ for $129
Heating Services Are an Investment in Your Comfort
While it's warm now, another cold winter is right around the corner. When cold weather hits, thousands of people will need heating services because they're having problems with their heaters. Whether you're in a commercial or residential setting, broken heating systems face the same basic issues.
Insufficient maintenance. Ideally, heater inspection and maintenance should be done once per year, which will do much to prevent unexpected issues. Regular maintenance will help the system run more efficiently and reliably.

Clogged and dirty filters. A dirty or clogged air filter cuts airflow, forcing the system to work harder when moving air. In the most severe cases, a clogged filter may damage the system's limit switch, which controls the fan. We check, clean, or replace the filter at each service.

Ordinary wear and tear. Even daily use will create airflow issues, heat control problems, and lead to overheating. This is especially true for older systems.

Excessive noise. Rumbling, squeaking, rattling, and banging noises aren't normal. Such sounds may indicate an airflow reduction, a mechanical issue, or a clogged burner. We can help make your system quiet again with our repair and installation services.

Electric ignition or pilot control problems. A malfunctioning ignition or pilot light will make it nearly impossible to heat a building efficiently. Unlit pilot lights often result from thermocouple problems, drafts, or clogs.
If your heater isn't working as it should, count on the trained Technicians here at Milestone. No matter your system's age, it may pose combustion- or gas-related hazards, so it's best to call a heating repair specialist to ensure that no one's health is put at risk. We're ready to help in any way we can, so call us today. We guarantee excellent work the first time with our 100% customer satisfaction Milestone Guarantee. Not happy? We will do everything we can to make it right.
Heating System Installation
Are you searching for a system that suits your budget and your home or business needs? At Milestone, we can help with that, too! We can explain your options for commercial and residential heating systems in Haltom City, and we'll help you choose one that keeps you comfortable.
Once you've selected a system, we'll install it for you reliably, efficiently, and quickly. We install systems including:
Heat pumps

Ductless systems

Furnaces
No matter which type of system you choose, we will do the job right the first time around. Proper installation is essential, especially with gas heaters. Don't try to install a new unit yourself. Leave it to the pros!
Heating System Replacement
Think of how long you've used your existing heating system. If it's only been a year or two, you're probably in good shape. If it's been more than 10 years, though, a system replacement might be in your future. Commercial and residential heating services like these shouldn't be put off, as they can make the difference between a comfortable building and an uncomfortable one.
Call us today to schedule heating system replacement services. Milestone's team knows how to remove old systems safely and install new ones properly. We will help you get through whatever the next cold snap brings.
Has your home or commercial building gotten colder despite your best efforts? Or do you notice strange odors or noises coming from your heating unit? If either of these issues has arisen, you likely need heating service. The skilled Technicians at Milestone can handle all sorts of heating system repairs. Contact us today to stay warm this winter and far beyond.
Ryan was very professional, friendly, helpful and an overall kind person. He got the job finished really quick and was so quiet when he worked, I would have never known he was here if I hadn't seen h...
Heating System Maintenance
Proper maintenance will keep your home or commercial heating system running smoothly and efficiently. If you haven't done so already, we recommend scheduling heating service with our team of professional Technicians. We offer The Milestone Tune-Up™ services that keep systems running, reduce the need for costly repairs, and lengthen the systems' lifespans.
Let Milestone 'Fix it in a Flash' for You!
Call the Pros at Milestone for the Haltom City Area's Best Heating Services
Whether it's heating system repair, maintenance, or installation, you can count on Milestone's trained Technicians to do the job right. We've provided our reliable services to residents and business owners in Haltom City for years, and we hope to do so for many years into the future. Contact us online or call today to schedule heating service.