Addison's Best Heater Technicians
Room uncomfortable?
Uneven room temperatures?

Addison's Best Heater Technicians
Room uncomfortable?
Uneven room temperatures?
We handle all things heating for your home!
We always answer live— book in under 2 minutes!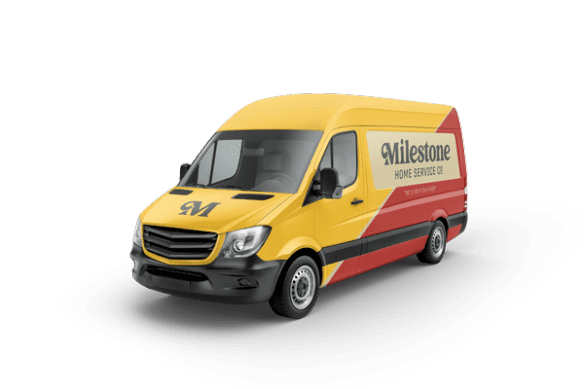 Heater Repair in Addison, Texas
Helping You And Your Heater
Texas winters can sometimes be chilly and wet. Texans keep warm in the winter by using a heater. A heater that is in tip-top shape will keep the home and family warm even on the coldest days of winter. Even homeowners who routinely have their heating system cleaned and tuned up can experience a system failure. A heater that isn't working can leave the family in the cold. At the first sign of a heating problem, give Milestone a call.
Guarantee The Heater Works
A heater sits dormant most of the year. Texas summers are hot, and both spring and fall are traditionally mild. This is why many homeowners receive a frustrating surprise when they use their heaters for the first time of the season. Many people may find when they turn their system on for the first time that their heater has problems. A great way to guarantee that the home's heater is ready to go when needed is by scheduling routine maintenance for the system with The Milestone Tune-Up™. You can have your system tuned up and ready to go every year through routinely scheduled maintenance appointments.
When The Heater Stops Working
If you turn your heater on and it does not work, you may start to panic. Homeowners in Addison rely on their heating systems to keep their families warm throughout the winter. The good news is that Milestone is just a phone call away. Milestone can get there in a flash and get your home's heater running as it should be.
Signs of a Heater Problem
How do you know if your heating system is experiencing a problem? While some issues are obvious and may shut the system down completely, other issues may be harder to pick up on. The following are symptoms of a heater issue:
Strange noises coming from the system;

No air coming out;

The air coming out is cold instead of warm;

The heater runs non-stop;

The home is cold despite the system running;

Leaks or moisture near the system; Or

A bad smell coming out of the vents or from the system.
Ryan explained before and after the work was done. He did an excellent job so far...
Commonly Seen Heating System Issues
If your heater is not running correctly, you should not panic. Don't assume the worst, as the problem could be a simple fix. Step one is calling Milestone for heater repair. Common heating issues that are fixed by our local Technicians include:
Loose connections;

Dirty or clogged filters;

Issues with pilot lights;

A defective thermostat;

A cracked heat exchanger;

A malfunctioning blower belt;

Worn out ball bearings; and

Loose panels.
These are not the only problems that our Technicians see. There could be several reasons why a Texas homeowner's heater is not working correctly. Milestone can send an expert Technician to the home to inspect the system and get to the root of the problem.
The great news is that all Milestone Technicians are trained to handle any heating emergency that a homeowner could be facing. The team member will arrive at the customer's location with all of the tools and supplies needed to get the job done. Keep in mind that with Milestone, satisfaction is guaranteed with our 100% satisfaction Milestone Guarantee.
Let Milestone 'Fix it in a Flash' for You!
Your Neighborhood Heating Repairman
If the home's heater is not heating, it is time to call in a local neighborhood heating repair company. Milestone is a company that puts every Technician through a rigorous training program. This company only hires the best local Technicians, and every employee is drug tested and background checked. Homeowners can feel safe and confident knowing a local Milestone Technician is on the job.
Why should Addison residents choose Milestone? Milestone is a family-owned and operated business dedicated to offering North Texans superior customer service. Not many companies offer a service guarantee, but Milestone does. If a customer is not 100% satisfied, Milestone will work to correct the problem until the customer is delighted. With Milestone, every customer is treated like family.
Heater Repair in Addison, TX
Homeowners in north Texas who are experiencing heating problems should give Milestone a call. This company services much of the area, including Richardson, Grand Prairie, Hurst, Irving, Keller, and more. Customers experiencing a home emergency can call Milestone 24/7 for emergency repair services. Ready to have your heater fixed? Don't delay. Give Milestone a call today. We will fix your heater ASAP.