Addison's Best Heater Technicians
Room uncomfortable?
Uneven room temperatures?

Addison's Best Heater Technicians
Room uncomfortable?
Uneven room temperatures?
We handle all things heating for your home!
We always answer live— book in under 2 minutes!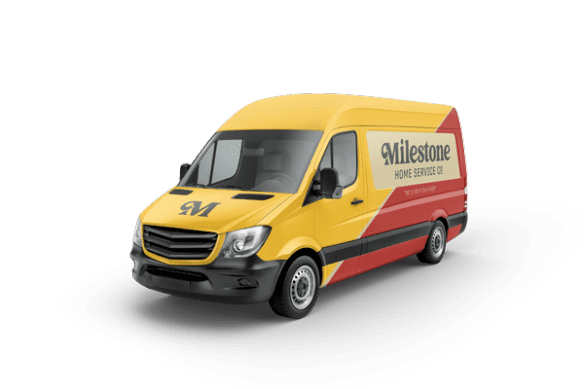 Heater Maintenance in Addison, Texas
Keeping Your Home Warm When it Matters Most
Texas winters can be chilly, and they may even surprise you with a little bit of snow. For this reason, it is important to have a properly functioning heating system. Here at Milestone, we specialize in HVAC, heater, and heater maintenance, repair, and installation. Our Technicians are expertly trained, certified, and committed to delivering superior customer service to the Addison area.
The Milestone Tune-Up™ for $129
Ensuring a Heater is Prepared to Run
You should invest in professional maintenance to your heater before you power it on for the first time after months of the heater being idle. Our Technician can remove dirt and debris from the heater through professional maintenance and can inspect the entire system for potential problems. Professional maintenance will also help to avoid the dusty smell that comes from a heater that powers on for the first time in a while. This odor comes from dust and debris burning. However, if the debris is removed, the foul smell will not radiate from the heater.
The Advantages of Heater Maintenance
Households in the Addison area rely on their heaters to keep their home warm during the colder months out of the year. If a heater is not properly functioning, the system may struggle to warm the house. This will result in lower temperatures throughout the home, leaving the occupants miserably cold.
The process that our Milestone Technicians will take when they provide heater maintenance is as follows: The Technician will perform an initial inspection on the system and clean it. If any potential problems are discovered during the inspection, they can make the necessary repairs on the spot. You can ensure that your system is ready to run all winter long by having the heater inspected.
Expert Heater Services in the Addison Area
Here at Milestone, we offer professional services that homeowners in North Texas can rely upon. Milestone only hires the best of the best, ensuring our Technicians will provide the best service possible to our customers. All Milestone Technicians are experts in their field that understand the importance of having a working heater in Texas homes, especially during winter.
Families can count on the team at Milestone throughout the year, not just during the winter. We provide heater maintenance, installation, and repairs throughout the entire year so that your system is ready for whatever situation it is needed in. We offer superior services at low prices.
jimmy was great! Did a good job!...
The Heating Experts in Addison
To become a Technician for Milestone, our Technicians went through a meticulous training program that ensures they are ready to repair any heater-related issue they come across. All of our Technicians are background checked, regularly drug tested, and are insured.
Safety is the number one priority of Milestone. We understand that our Technicians will be inside the customer's home. You should feel comfortable and safe about our Technicians working on your heater or HVAC system. If you have any questions or concerns about the Technician or the services performed, they are welcome to contact one of our agents.
Let Milestone 'Fix it in a Flash' for You!
Commitment to You: Same-Day Service
A major advantage of choosing Milestone for HVAC services over other companies is that we offer same-day appointments. Availability for same-day appointments offers you peace of mind if you are going through an emergency, one of our Technicians will arrive at your home the same day the service is scheduled. Heater maintenance and repair can be rather tricky, so we only employ the best Technicians in the area.
Preparing Texas Homes for Winter
Although Texas is one of the hotter states in the United States, Texas winters can still be cold and intolerable. Here at Milestone, we work tirelessly to ensure that our customers are prepared for the winter. When calling, ask about the Milestone tune-up to receive our maintenance service, and our Technicians will ensure that the customer's heating system is prepared for the coming winter months.
If a potential issue is found during the initial inspection of the heating system, the Technician will alert the homeowner of the problem and possible solutions. Our Technicians are expertly trained and certified to clean, inspect, and adjust the inner parts of a heater. If an issue is found, the Technician agrees with the homeowner about how to proceed and then makes the necessary repairs.
Milestone's Customer Service Guarantee
At Milestone, we are dedicated to providing our customers with the absolute best customer service available through our 100% satisfaction Milestone Guarantee. If you are not happy with our service, we will do everything to make it right. Do not hesitate to contact us today! Our offices are open 7 days a week.