Toilet running?
Leaking faucet?

Toilet running?
Leaking faucet?
We handle all things plumbing for your home!
We always answer live – book in under 2 minutes!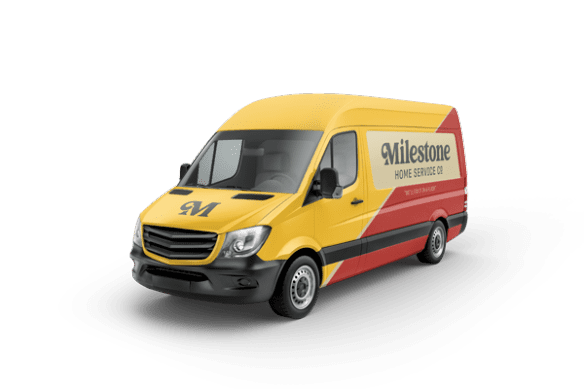 Water Heater Services in Allen, Texas
Providing Scorchingly Great Water!
Is your water heater no longer functioning as it once did? On average, a water heater will last about ten to fifteen years, depending on how well it has been maintained. If water heater issues develop, we want our customers to be prepared to take action.
Milestone has been in operation since 2004. For over seventeen years, we have tirelessly worked to ensure the needs of our customers are met. We are so positive you will be satisfied with our services that we guarantee them. If for any reason you are not 100% satisfied, we will work to make things right or refund your money. That is the Milestone Promise!
We understand dealing with water heater problems can become stressful, especially when your hot water supply is interrupted. Milestone offers emergency plumbing services to ensure we are there when you need us. Call us right away for repairs or Water Heater Installation.
Water Heaters Now $100 Off
Water Heater Repair Services
When a water heater begins to fail, it is imperative homeowners know the signs. Unfortunately, water heaters are often given an "out of sight, out of mind" approach because they are tucked away where they cannot be seen easily. The following are some of the common repair services that we offer for water heaters in the Allen area.
Lack of hot water: A lack of hot water is typically one of the first signs you may notice. When your hot water supply is interrupted, it is important to investigate why. Call us right away for service.
Discolored water: You may also notice your hot water has become discolored or has a bad smell. These issues are often caused by the degradation of the inner tank components.
Strange noises: If you notice strange noises coming from your water heater, do not ignore them. Odd noises should always be checked by a certified Plumber who can diagnose them properly.
Swelling tank: Yet another sign of water heater woes is tank swelling. If the tank starts to swell or sweat, these could be signs there is a problem with a leak that needs to be addressed immediately.
Broken pilot light: If you have a gas water heater, it is important to check the color of the pilot light from time to time. If it turns yellow, call us right away. This could mean carbon monoxide is leaking into your home!
If you have noticed any of the above signs, you need to call the expert Plumbers at Milestone right away. We will help you get to the root of the problem and discover what is causing your water heater issues. With our expert water heater repair services, you will be able to rest assured your water heater issue is properly dealt with.
Sometimes, a water heater has too many repair issues and reaches the end of its lifespan much faster. When this happens, we want you to know we will be there to offer sound water heater replacement advice and services. When it comes time to replace your old unit, you have a lot of energy-efficient options. From tanked to Tankless Water Heater options, we will help you find the perfect model to meet your needs. Replacing your old water heater will lead to a greater level of function and energy efficiency. By replacing your water heater, you can save money on electricity and water usage costs.
Maintaining your tanked or Electric Tankless Water Heater is essential for keeping it functioning efficiently. Milestone offers comprehensive water heater maintenance services, to ensure your water heater works at its prime and lasts as long as possible.
A big part of the services we provide is draining and flushing your water heater tank. The tank needs to be drained and flushed every one to two years because sediment can build up and cause problems. Getting the sediment out helps to ensure your water heater functions normally and your hot water supply is safe.
Excellent service! William was professional, courteous, & knowledgeable....
Let Milestone 'Fix it in a Flash' for You!
Our Commitment to Customer Service
Working with Milestone means you'll have peace of mind knowing that you're getting quality workmanship and excellent service. That's why our team has earned more happy customers and positive reviews than any other company in the Metroplex.
Plus, with our price-match guarantee, you can rest assured that you won't find a better price anywhere else – if you do, we'll match it AND beat it by an additional $100! Rest easy knowing that when you work with Milestone, we're not done until you are fully satisfied; no matter what – and once you are, we can assure you speedy water heater services as well – simply call us and "we'll fix it in a flash!"
Water Heater Services Near Me
Are you a homeowner in Allen? Are you concerned about the functioning of your water heater? If so, do not fret. Instead, call our professional Plumbers today. They are standing by to take your call and answer any questions. We will get you scheduled right away for one of our many water heater services.
We understand plumbing repair issues cannot always wait. If you are without hot water or are dealing with leaks, this is a plumbing emergency that needs to be addressed right away. Call us immediately. We offer emergency plumbing services to meet every plumbing need. With the expert Plumbers at Milestone, you will not have to stress over water heater problems.