Allen's Best IAQ Technicians
Dust in your home?
Musty smell from air vents?

Allen's Best IAQ Technicians
Dust in your home?
Musty smell from air vents?
We handle all things indoor air quality for your home!
We always answer live – book in under 2 minutes!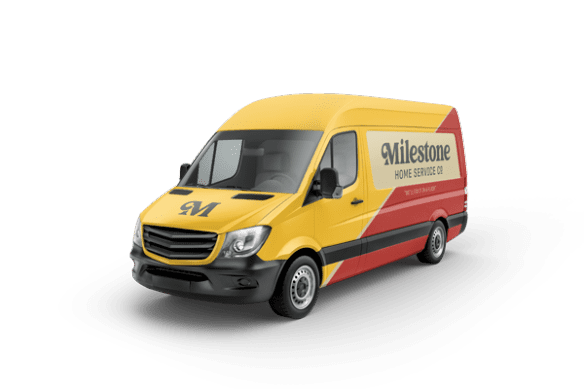 Attic Insulation in Allen, Texas
Ensuring Your Home Stays In Good Condition
Everything is bigger and better in Texas, and that includes the summertime heat. Our state is one of the hottest in the nation, with the average summertime temperature at about 86° Fahrenheit. Now answer this: have you ever been upstairs in an attic during July? The heat is so much worse than the rest of the house; it can be unbearable. That's one of the biggest problems that Allen homeowners face with keeping their home cool in the summer while simultaneously trying to keep energy bills down. Even with a central air system, the heat that gets stored in the attic during the summer makes the AC system work much harder to cool the entire house.
However, there is a solution: attic insulation and a radiant barrier, which can help keep your home cool and comfortable all summer long. Here at Milestone, we hire and train expert Indoor Air Quality (IAQ) technicians to help our friends and neighbors in Allen with all of their attic insulation needs. Once you call Milestone, you can have peace of mind knowing that your home will be cool and extremely comfortable, even in the famous Texas heat.
Get Your Assessment Today
The Attic Insulation Experts
If you don't head up to the attic very often, it can be easy to forget that it's an integral part of a home. Though many homeowners choose to use their attic as storage space, the attic is the one place that can help maintain cool temperatures inside the house. That's where we come in–we handle all of your attic insulation needs, so the entire process is stress-free. Our skilled IAQ technicians are experts at installing insulation and radiant barriers, which allows for a much more efficient flow of energy for households.
When it comes to our priorities, workplace safety and customer service are at the very top. All of our technicians are licensed and insured, which means that you're in expert hands the second they walk through the door. Every single tech we hire must undergo a thorough background check and drug screen because we only hire the best of the best.
That's what makes us the leading choice in Allen for attic insulation, HVAC, and plumbing services. Our same-day guarantee also ensures that your home will be cool and comfortable again by the time we leave. And, if you're not satisfied with the work we completed, just let us know. Our customer service guarantee means that if you're not happy, we're not leaving until the problems are fixed, and you're completely satisfied.
Benefits of Attic Insulation
Was your home built before 1980? If so, it's most likely considered to be under-insulated by today's stricter standards. The Department of Energy estimates that an attic with proper insulation and radiant barriers can reduce anywhere from 10 to 50% off of a heating bill! It also works inversely in the summer: it can help reduce the amount of power the AC uses, keeping the house at the right temperature with far less energy. We can also install thermal radiation barriers, which help keep the sun's rays from penetrating through the roof and into the attic, which helps keep the space much cooler, even in the midday heat. Here are some of the best benefits of installing insulation in the attic, including:
Saves Lots of Money
The best benefit of attic insulation is saving money. Hiring the professionals at Milestone to insulate your attic and add thermal radiation barriers will pay for itself in saved energy costs within a few years.
Improves Indoor Air Quality
Proper insulation in the attic can also improve indoor air quality. Outdoor particulates and contaminants can enter a home through leaks or cracks in the roof or an under-insulated attic. However, proper insulation means those harmful pollutants don't spread to other areas of the house, where they can be breathed in by your family.
Protects the House
A properly insulated attic also helps protect a house from damage. The most dangerous damage is from water or excess moisture, which usually is created from rain, melted snow, even humidity. The damage they cause is no easy fix, which is why it's crucial to call us here at Milestone right away to get the proper insulation in your home to ensure it's protected.
Robert was very knowledgeable and provided multiple solutions for my living room. He was professional, friendly, and completed the job even though it went well into the evening. I'd recommend Mileston...
Let Milestone 'Fix it in a Flash' for You!
Call the Experts at Milestone Today
When it comes to attic insulation or any other HVAC or plumbing service, look no further than the experts at Milestone. From the moment we answer the phone, our friendly customer service reps will help guide you through the process, ensuring that it stays completely hassle-free. Our skilled technicians are dedicated to providing all of our friends and neighbors in Allen with the highest level of support and customer service possible, which is why we're the local insulation and HVAC experts. Call us today at Milestone to learn more or schedule a consultation.