Fort Worth's Best Heater Technicians
Room uncomfortable?
Uneven room temperatures?

Fort Worth's Best Heater Technicians
Room uncomfortable?
Uneven room temperatures?
We handle all things heating for your home!
We always answer live – book in under 2 minutes!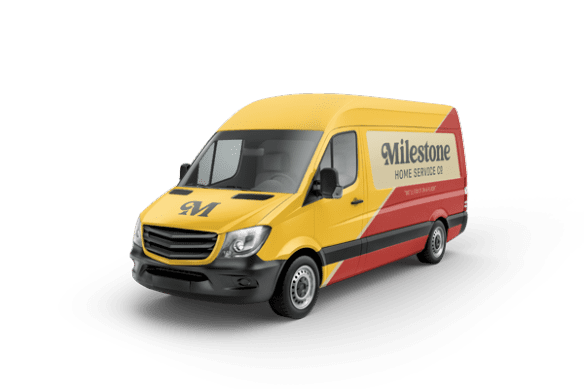 Heating Maintenance and Repair Services in Fort Worth, Texas
Keeping Your Home Warm When it Matters Most
Though we only need it for a few months out of the year, it's still crucial to ensure that your Fort Worth home's heating system receives the highest level of maintenance and care. That way, it'll be ready when cold weather comes. Contact Milestone online or give us a call to schedule The Milestone Tune-Up™ or other services today!
The Milestone Tune-Up™ for $129
Signs That It's Time to Schedule Heating Repairs
Most of the time, it's difficult to tell when a home heating system needs repairs. Here are a few signs that it's time to give us a call.
High utility bills. When your power or gas bill is higher than normal, a malfunctioning heater may be to blame. We can help determine what is causing your system to run less efficiently and fix the problem. 

A yellow pilot light. We're used to seeing blue burner flames on our gas furnaces. However, when that flame is yellow, it typically signals a problem with your heating system, notably the presence of carbon monoxide. Contact us right away so that we can test your furnace, repair it, and make it safe again. 

Odd noises. Old heaters are likely to creak, bang, and rattle. If your heating system makes too much noise, call us for repairs.

Constant thermostat adjustments. Getting up to adjust the thermostat several times a day may mean there's a problem with your heater. If it's hot in some rooms and cold in others, contact us to schedule heating services.

Frequent repairs. While the occasional service call isn't a cause for concern, repeated visits are a sign of serious heating issues. Here, a system upgrade may be a financially sensible option.
Sometimes, heating system problems are too complex for homeowners to solve. That's where we come in! We have years of experience in diagnosing and fixing heater problems. 
Heating Services in the Dallas/Fort Worth Area
When you need the area's highest-quality furnace, heat pump, or ductless system service, you can count on us. Our heating repair Technicians are all certified, licensed, and trained, and they all undergo continuing education to stay updated on industry technology. We service most major brands, and our services include:
Air filter replacement

Thermostat and zoning control testing

Inspection of seals, belts, refrigerant lines, and wiring

Cleaning of blower fans and air handlers

Lubrication of pulleys, motor bearings, and other moving components

Cleaning of burners on gas furnaces

Inspecting flues and heat exchangers

Inspection of heat pump condensate drains, evaporators, and condensers

Testing of capacitors, start relays, and compressors
At Milestone, we are proud to be able to offer the best services to our customers in the Fort Worth area. This is mostly due to our commitment to hiring the most trustworthy Technicians. Each Technician is vetted before hiring using drug tests and background checks. We also make sure they are friendly and share the same commitment to quality as the rest of our company.
For every service, we guarantee quality through what we call The Milestone Promise. If you are not 100% satisfied after a repair or maintenance appointment, our Technicians will come back and keep working until you are happy. We also provide same-day availability. If a problem with your heater arises, call before 10:00 am and we will come the same day to fix your heater problem.
Finally, you never have to worry about hidden costs, surprise fees, or being taken advantage of. We always provide upfront estimates so that you know how much you are going to have to pay. If you find a service with comparable services at a cheaper price, we will match it!
Jonathan was my technician. He was very thoughtful, knowledgeable, and helpful. When he discovered a manufactures defect in the lighting kit of a ceiling fan he was installing, he told me exactly what...
Let Milestone 'Fix it in a Flash' for You!
Heating Maintenance Programs
Our HVAC maintenance programs make it easy, convenient, and cost-effective to care for your heating system. Not only does our plan include two of The Milestone Tune-Ups™ for heating and cooling equipment, but it also includes exclusive discounts, priority scheduling, and much more. Our trained Technicians will do what it takes to maximize your system's performance while keeping your family comfortable.
Milestone: Your Premium Choice
By using Milestone for your home heating repairs, maintenance, and installation services, you can be assured that your project is in capable hands. We have many years of experience in the Fort Worth area, as well as thousands of ratings from satisfied customers. Our Technicians are focused on your comfort, and we're always available to meet your heating repair needs. Call us today or contact us online to schedule heating repairs, maintenance, or system replacement. We look forward to serving you, and we thank you for choosing us.